Planning to undertake a painting job is a big decision for any business owner. Although it's fun and exciting to choose shades from a colourful palette, however, painting a commercial building is time-consuming and may disrupt the regular business operations. To prevent paint job from hampering your productivity and day-to-day business operations, it's always wise to schedule paintwork when buildings are empty.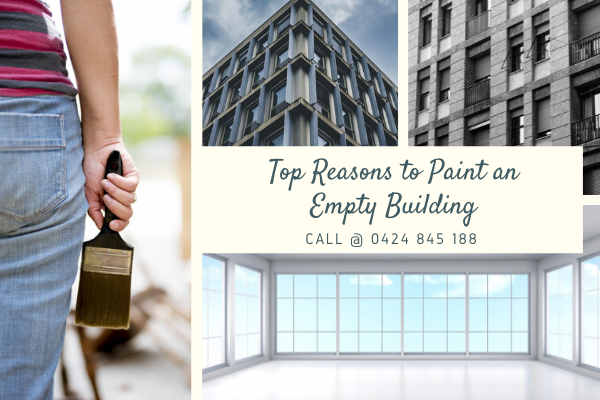 Top Reasons to Paint an Empty Building
Repainting an industrial facility or a commercial building turns out to be a nerve-wracking experience for most entrepreneurs and becomes a matter of concern, especially when situation demands it. Applying paint to address recurring issues such as leakage, peeling paint and blisters requires time, effort and proper planning. Scheduling the right time to execute the paint job is essential due to the following reasons:-
Minimal Disruption to Work and Employees:-
Public holidays, weekends, off-seasons or any other downtime is when you should opt for a paint job. With employees at leaves and no clients or vendors coming in, commercial painters in Sydney can get enough time to execute the job in a safe and efficient manner.
Another good time to opt for repainting your commercial building is when employees are deputed on fieldwork and are responsible for completing their tasks remotely. Having your building repainted while being empty can minimise disruption and ensure the safety of your employees at it's best.
Complete the Job Quick and Precisely:- 
Painting your commercial building or industrial plant during holidays allows painting services contractors in Sydney to execute the task with precision and minimal interruption.
Since painters don't need to work on fixed schedules, they can start the paintwork early and stay back late to expedite the painting process. This could help you limit delays and get the job done within the lowest turnaround time. On the other hand, hiring a repainting job with full building occupancy can linger the process and make you compromise on productivity and day-to-day business operations.
Get a High-Quality Paintwork Done:- 
Unfortunately, very few companies utilise holidays, weekends or off-seasons to repaint their facility. Painting a vacate building offers a plethora of benefits- you can get flawless paintwork done without losing productive business hours.
Also, availability of commercial painting contractors in Sydney is not always the same. You can choose off-seasons for painting your commercial property to get discounts on paint packages. The painting contractors won't have work pressure and can focus on every aspect of the work. From surface preparation, industrial spray painting techniques, to paint-protection methods, they can complete the painting project underlining quality and professionalism at every stage.
Painting your commercial building may seem to be a difficult endeavour and you may want to avoid the hassle. However, proper planning is key to a successful paint outcome and won't be tedious.
Scheduling paintwork for your commercial building or industrial facility in an empty state can help you achieve flawless results without compromising on productivity. Moreover, hiring painting services during off-seasons help you get the best work done at the lowest package. If it's high time to paint your commercial building, start planning early to get the job done right.
At "On Point Colour Painting Pty Ltd", we offer residential and commercial painting using highly advanced techniques and premium paint solutions to ensure you get nothing but the best for your property. So reach us and get impeccable paintwork at a budgeted price. Dial us @ 0424 845 188 and ask for a FREE QUOTE now!