Painting office is a great way to add charm and appeal to your space if done properly. From choosing the right paintbrush, materials and equipment to flawless paint application on walls, it takes a lot of time and effort to make office painting successful and stress-free endeavour. It's a job of professionals and hence choosing the right painting company is a must. However, business owners who prefer delegating the task to in-house staff in order to save their pockets, end up with inferior quality of work and opt for a repainting job before the expected time.
This blog is to make you aware of the common office painting blunders and the easy ways to avoid them to make your hard-earned investment worthy.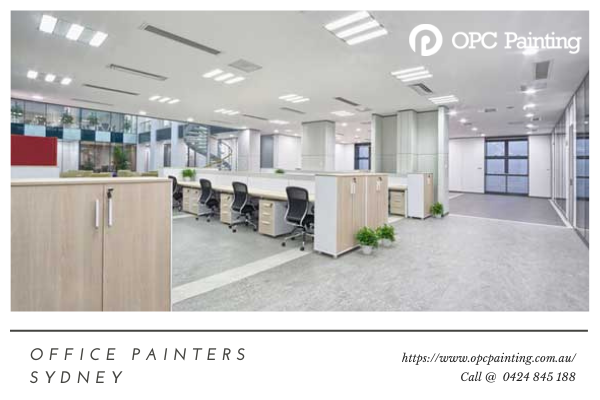 Not Prepping the Surface Properly
A common blunder made by most business owners is not paying attention to surface prepping before hiring office painters in Sydney. Cracks, dents, dirt and debris on surface of walls can prevent paint from creating a strong bond and give recurring trouble of peeling paint, blisters and flaky paint. Therefore, you need to treat damaged surfaces by removing flaking layers of old paint or sand out the imperfections using sandpaper before applying new paint coats to ensure it provides the best coverage and bonds well.
Painting Over Damaged Surface
Before applying fresh coats of paint, professionals always recommend scraping off dirt and debris from walls for better adhesion and durability. Business owners who skimp on pressure washing walls to remove surface contaminants end up hiring a repainting job within a year of applying new coats. Deep surface cleaning is a must before applying new paint layers as it prolongs the shelf-life of paint and eliminates the need for routine paint maintenance.
Ignoring to Use Painter's Tape
Delegating the task to professional painters not only offers peace of mind but ensure the work is done with precision and expertise. Professional office painting contractors in Sydney usually use painter's tape to cover the edges of door frames, window sills along with crevices in order to keep the edges clear and distinct. However, business owners who delegate the task to in-house employees lack knowledge and experience of using painter's tape and end up with an inferior quality of work.
Applying Paint on Wet Walls
If you have pressure washed the walls and ceilings of your office to remove dirt, debris and other surface contaminants, it's important to dry them before applying fresh coats in order to prevent any sort of paint damage. You should invest more time in drying your walls if the weather is hot and humid. Painting over wet surfaces cannot help you get proper coverage nor cause paint to bind on surface walls for long. It will eventually start peeling off as soon as the underneath paint layers get dried up.
Book an Appointment Today!
At On Point Colour Painting Pty Ltd, we specialise in residential and commercial interior painting in Sydney using industry-compliant equipment at a fair price. Our vetted professionals have solid industry experience and help you get desired paint outcome with precision and attention to detail. If you are willing to undertake an office painting job soon, get in touch with us and ask for a FREE QUOTE anytime!